De hammer curl lijkt erg veel op de traditionele bicep curl, het grote verschil zit in de handpositie. Bij de hammer curl houd je het gewicht vast met een neutrale grip, dit betekent dat je handpalmen naar elkaar toe wijzen. De hammer curl is een zeer effectieve oefeningen om je biceps te stimuleren. Het voordeel van de hammer curl tegenover de traditionele bicep curl, is dat de spieren in je onderarmen (brachialis) sterkerer geactiveerd worden.
De hammer curl is een variatie op de dumbbell bicep curls Bij deze variatie wordt er geen rotatie gemaakt met de dumbbell, de handen blijven in een constante positie. Hierdoor hoef je alleen je onderarmen van onder naar boven te bewegen. De oefening is dus relatief simpel en zeer geschikt voor beginners.
De hammer curl kan staand of zittend uitgevoerd worden. De één is niet beter dan de ander, dit is voornamelijk afhankelijk van jouw persoonlijke voorkeur. De techniek en uitvoering blijft in beide gevallen hetzelfde.
Hammer curl: uitvoering en techniek
De hammer curl is een relatief simpele oefening, maar toch zijn er aantal belangrijke punten waarop gelet moet worden wil je

de fitness oefening

zo effectief mogelijk uitvoeren. We nemen de oefening van begin tot eind met je door.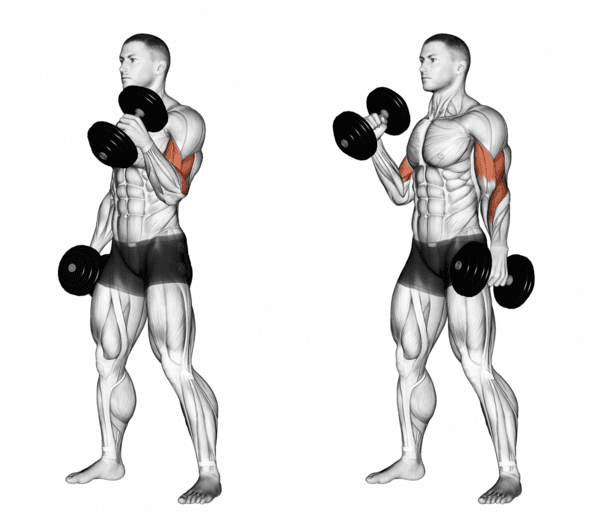 Pak in beide handen een dumbbell vast met een gewicht waar je tussen de 8 en 15 herhalingen mee kan uitvoeren. Gebruik een neutrale grip waarbij de handpalmen naar elkaar toe wijzen. Houd de dumbbells lang je zij maar zorg dat ze je niet aanraken.

Breng de dumbbell langzaam omhoog, om en om, één arm tegelijk. In de bovenste positie span je bewust je bicep aan, waarna je hem vervolgens langzaam en gecontroleerd laat dalen naar de beginpositie.

Voer dezelfde beweging uit met je andere arm. Wanneer je dit voor allebei de armen gedaan heb, heb je één herhaling afgerond.

Herhaal de beweging tot het gewenste aantal herhalingen van de set is behaald.
Nu lijken de 4 stappen waarin we de uitvoering hebben beschreven erg simpel, maar zijn er genoeg dingen die nog fout kunnen gaan. Om ervoor te zorgen dat je deze fouten niet maakt, hebben we een aantal tips voor je genoteerd die dat zullen voorkomen.
Zoals we eerder al zeiden, kies een gewicht waarmee je op een gecontroleerde manier tussen de 8 en 15 herhalingen kan uitvoeren. Merk je dat je teveel gaat slingeren, verlaag dan het gewicht.

Focus je op de positie van je ellebogen. Door bewust je ellebogen in dezelfde positie strak lang je zij te houden, zorg je ervoor dat alleen je onderarmen bewegen en je de oefening correct uitvoert.

Probeer je armen niet helemaal te ontspannen en te laten hangen in de onderste positie. Door een kleine buiging te behouden in je armen, behoud je constante spanning op je biceps waardoor de totale tijd dat de spier onder spanning staat vergroot wordt.

Binnen de hammer curl oefening zijn er genoeg manieren om te variëren. Zo kan je de oefening staand of zittend uitvoeren, maar ook met één of twee armen tegelijkertijd uitvoeren.
Veiligheid en voorzorgsmaatregelen
De dumbbell hammer curl is over het algemeen een veilige oefening en niet blessuregevoelig. Door een gewicht te gebruiken waarmee je de oefening gecontroleerd kan uitvoeren, isoleer je alleen je biceps. Ga je de hammer curl uitvoeren met (te) zware gewichten, dan ontstaat er natuurlijk wel een risico vanwege de afname in controle over het gewicht, dit raden we daarom ook zeker af.
Felix is een voedingsdeskundige met een bachelor in Health & Nutrition en een master in Health Sciences. Felix gebruikt zijn sterke achtergrond in voedingswetenschappen en voedingsadvies als redacteur en freelance schrijver. Als redacteur is het zijn missie om zoveel mogelijk mensen te laten zien dat een gezonde levensstijl niet ingewikkeld hoeft te zijn.