Sale!
Magnificent
Het complete all in one supplement
Het nieuwe high tech supplement; Magnificant! Deze all in one topper geeft je alles wat je nodig hebt: eiwitten, creatine, aminozuren, vitamines, mineralen en een portie aan snel opneembare koolhydraten ideaal voor direct na je training. De Magnificant van Body&Fit is het ideale herstelpoeder, maar kan ook voor of tijdens de training worden gebruikt voor een extra energie boost. Kijk vooral even naar het voedingswaarde label, met dit supplement heb je vrijwel geen andere fitness supplementen meer nodig!
✔️ High tech post workout blend
✔️ Eiwitten, creatine, aminozuren, vitamines en mineralen
✔️ Effectief voor herstel na een zware training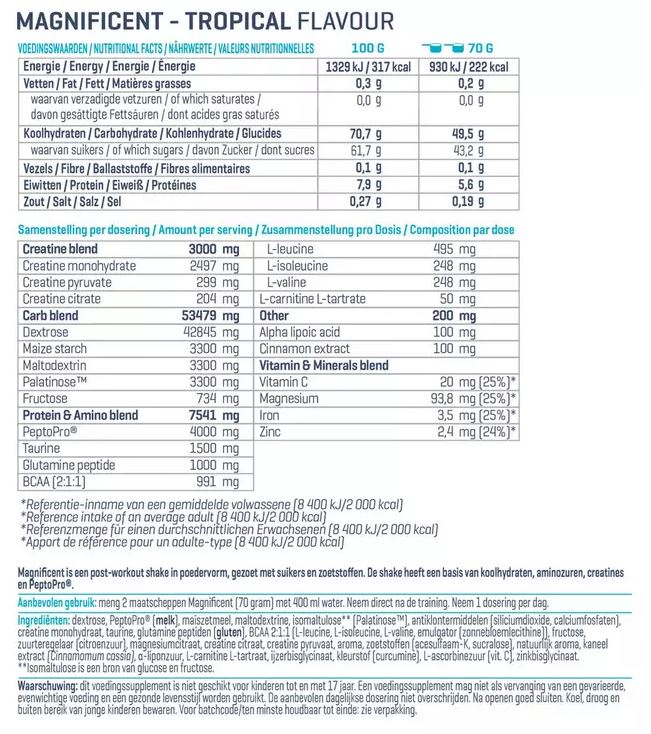 Merk

Body & Fit

Inhoud

2100 gram

Creatine vorm

Creatine Monohydraat
Creatine Citraat
Creatine Pyruvaat

Dosering

2 Maatscheppen (70g) voor, tijdens of na je training.
---